Pilbara Oasis between Karijini & Ningaloo
Cheela Plains Station is a family owned and managed working cattle station nestled in the semi-arid, pastoral rangelands of the Pilbara in northern Western Australia. Our station-stay is a welcome stop for travellers on the Nanutarra-Munjina Road between the World Heritage listed Ningaloo Reef and Karjini National Park.
GETTING HERE
Cheela Plains is located 130kms (via gravel) west of Tom Price and 320kms northeast of Exmouth on the Nanutarra-Munjina Road (Hwy 136).  The Station Campground is situated 1km off the main highway and is accessible by 2 wheel drive car.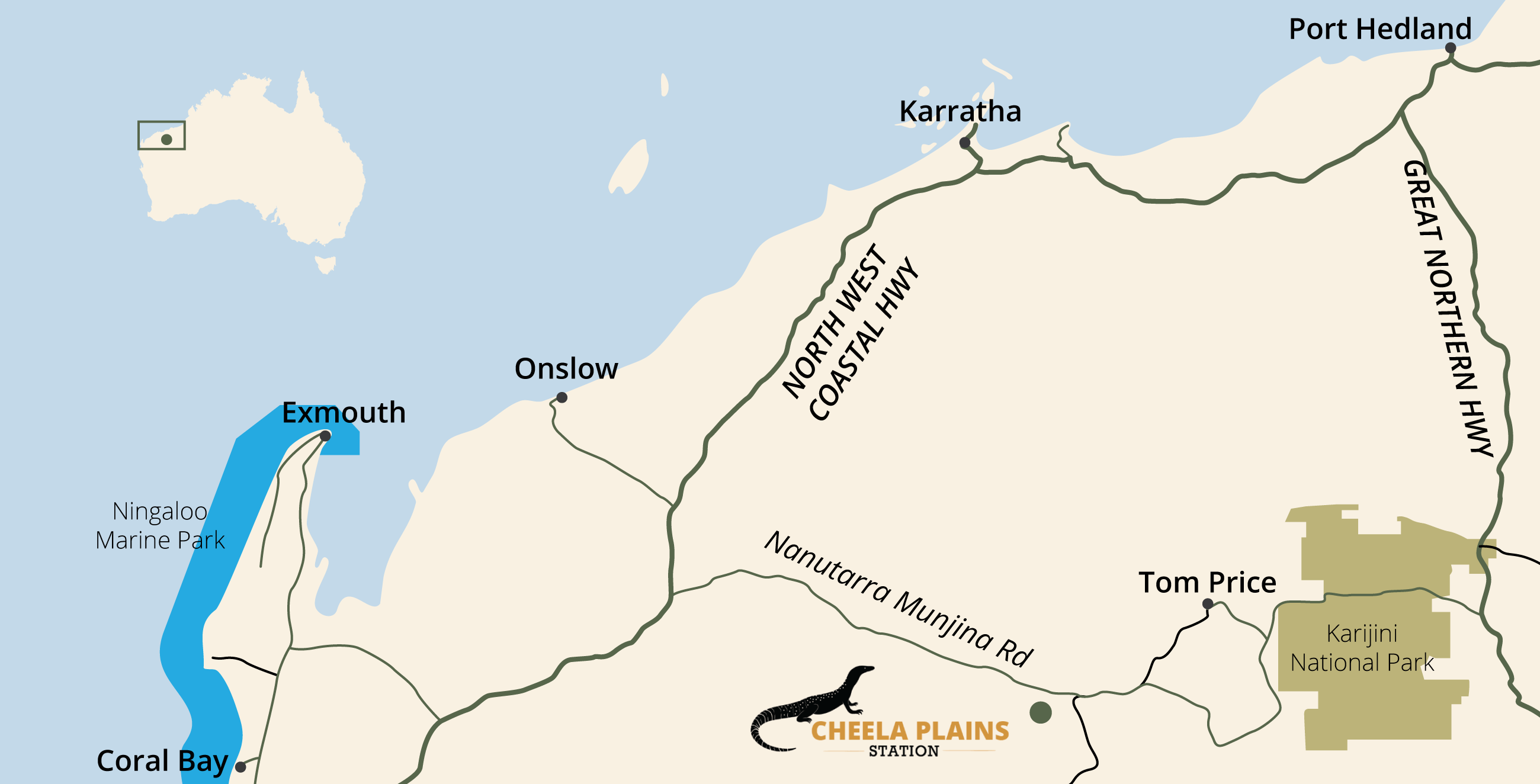 STATION EVENTS
Each year, we are introducing new and exciting events on Cheela.  In 2020, we again hosted our 'Space Safari'  an introduction to astrophotography under the magnificent night sky of the Pilbara. Everything from landscape to deep-sky astrophotography will be covered.   Stay tuned for the announcement of 2021 event dates.
A beautiful and peaceful place to stay on a road trip after long drive plus hiking.Staff are very friendly, accomodating and helpful to complement the stay.
Finally, hats off... read more to the cafe /kitchen for the Simple and delicious dinner to make guests feel at home. ++

RoadTripTravelll66


02/10/2022

A beautiful and peaceful place to stay on a road trip after long drive plus hiking.Staff are very friendly, accomodating and helpful to complement the stay.
Finally, hats off... read more to the cafe /kitchen for the Simple and delicious dinner to make guests feel at home. ++

YihShyuan Patri... T


02/10/2022

The staff at Cherlah Plains Station were so helpful when my Campervan broke down 10km from station.They helped tow my van to the station.And allowed me to stay there till... read more RAC came to collect my van.They were so wonderful I stayed there on way up to Tom Price.The property has great walks and views of The Hamersley Ranges.And the cafe is great for meals and the comunnual fire pit great place to meet other traveller.

lindamO6459XW


01/09/2022