Pilbara Oasis between Karijini & Ningaloo
OPEN to Tourists 1st April - 13th October 2024
OPEN for Corporate Accommodation year round
Cheela Plains Station is a family owned and managed working cattle station nestled in the semi-arid, pastoral rangelands of the Pilbara in northern Western Australia. Our station-stay is a welcome stop for travellers on the Nanutarra-Munjina Road between the World Heritage listed Ningaloo Reef and Karijini National Park.
GETTING HERE
Cheela Plains is located 170kms southwest of Tom Price Visitor Centre (via Paraburdoo) and 320kms northeast of Exmouth on the Nanutarra-Munjina Road (Hwy 136). The Station Campground is situated 1km off the main highway and is accessible by 2 wheel drive car.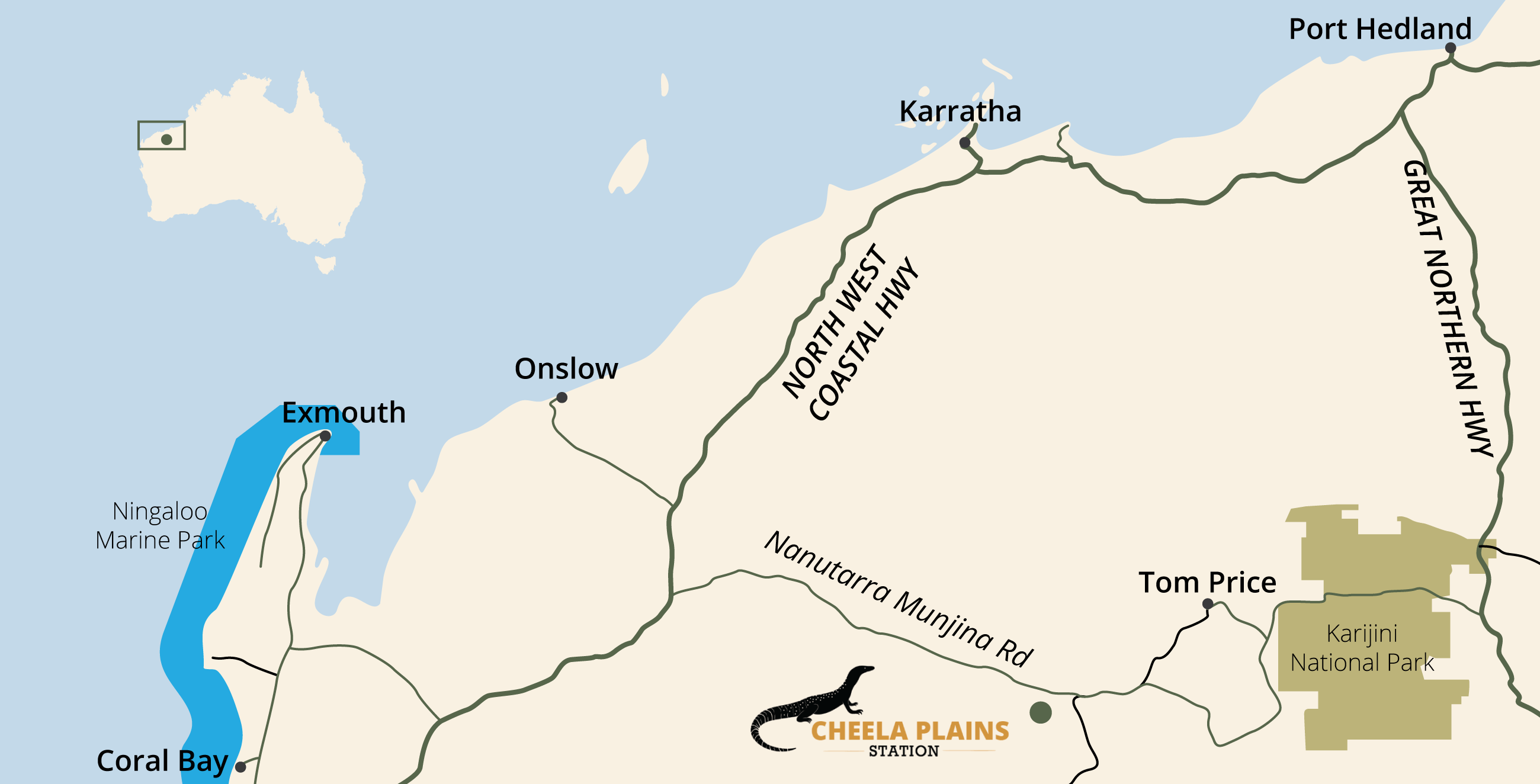 STATION EVENTS
Each year, we are introducing new and exciting events on Cheela.  In 2020, we again hosted our 'Space Safari'  an introduction to astrophotography under the magnificent night sky of the Pilbara. Everything from landscape to deep-sky astrophotography will be covered.   Stay tuned for the announcement of 2021 event dates.
Gill Skinner
17. October, 2023.
Friendly staff. Great campsite.
john webber
15. October, 2023.
Great must stop for coffee etc if your travelling from anywhere near Tom Price towards Exmouth or Coral bay, or reverse.
Gary Papamarkos
12. October, 2023.
Great place
Jacob Pratten
10. October, 2023.
A great place to spend a few nights and explore the Pilbara. So great easy 4x4 tracks and interesting locations throughout the station
michael wanyoike
3. October, 2023.
Lovely station stay before getting into Karijini.
Carlos Z
3. October, 2023.
Such a great destination stay. Staff are incredibly friendly, approachable and helpful. The facilities are amazing and well looked after, making the stay that much more comfortable. You are given a brilliant map which details the station and some awesome sites to visit near by. Would highly recommend.
Roche Jacques van Rooyen
1. October, 2023.
Very nice little oasis to stop over and stretch legs, the staff are amazing and such a well looked after place.
George Muscat
28. September, 2023.
A great place to stop and rest