Pilbara Oasis between Karijini & Ningaloo
Cheela Plains Station is a family owned and managed working cattle station nestled in the semi-arid, pastoral rangelands of the Pilbara in northern Western Australia. Our station-stay is a welcome stop for travellers on the Nanutarra-Munjina Road between the World Heritage listed Ningaloo Reef and Karijini National Park.
GETTING HERE
Cheela Plains is located 170kms southwest of Tom Price Visitor Centre (via Paraburdoo) and 320kms northeast of Exmouth on the Nanutarra-Munjina Road (Hwy 136). The Station Campground is situated 1km off the main highway and is accessible by 2 wheel drive car.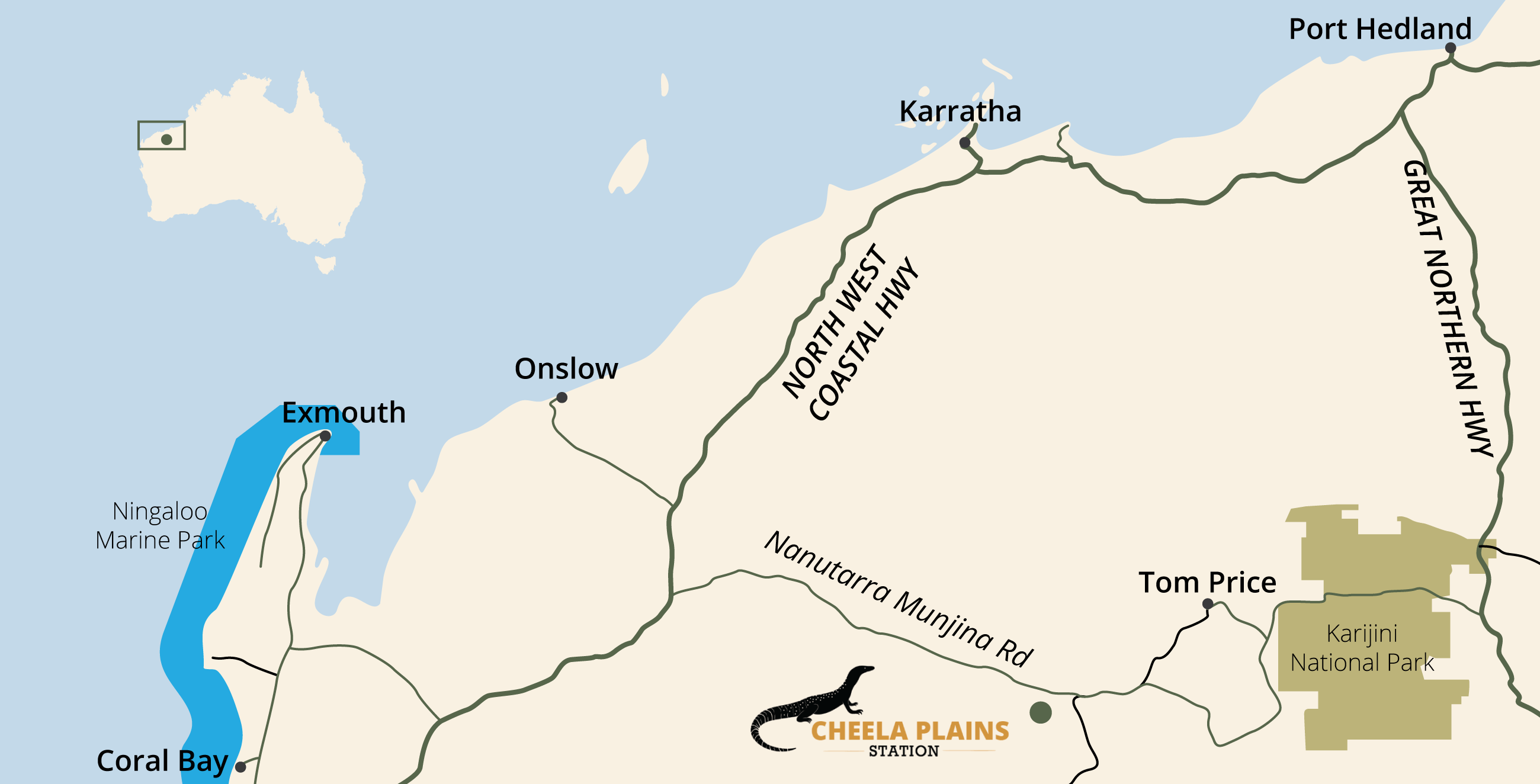 STATION EVENTS
Each year, we are introducing new and exciting events on Cheela.  In 2020, we again hosted our 'Space Safari'  an introduction to astrophotography under the magnificent night sky of the Pilbara. Everything from landscape to deep-sky astrophotography will be covered.   Stay tuned for the announcement of 2021 event dates.
Michael Gladwell
6. June, 2022.
Wonderful, peaceful and picturesque place with incredibly friendly service. Exceptional meals too!
Bridget Duncan
6. June, 2022.
Comfortable bed, however the donga's walls are paper thin, bring some earbuds in case your neighbour is loud. The food was delicious and the staff very welcoming. There is only one enclosed ladies shower, and an additional two in the open, so it gets pretty busy (and cold in the winter months). The common grounds are beautifully kept.
Andrew scaff
31. May, 2022.
Cheela Plais is a great place to visit. We stayed two nights at the main camping area and enjoyed their Cafe and Burger night then took our van to another of their camping areas to camp in and around their own gorges. Highly recommend Cheela plains.
JENNY LONG
29. May, 2022.
Great campsite oasis in the middle of nowhere. Cafe food great
Perfect place to stop on the way to Karajini.
Philip Peacoulakis
28. May, 2022.
Could not have had a better stay
Angela Coppleman
14. May, 2022.
Great little stop over with few accommodation options. Excellent friendly staff. Dinner was amazing Definitely stop there again
Mandy Caunt
4. May, 2022.
Great place to stop on the way to Karajini. Lovely to sit on the lawn under the trees watching the bungarra chase grasshoppers. Climb to the top of the hill to watch the sun rise and set. Eat at the Cafe or sit by the fire. Just superb.