Pilbara Oasis between Karijini & Ningaloo
Cheela Plains Station is a family owned and managed working cattle station nestled in the semi-arid, pastoral rangelands of the Pilbara in northern Western Australia. Our station-stay is a welcome stop for travellers on the Nanutarra-Munjina Road between the World Heritage listed Ningaloo Reef and Karijini National Park.
GETTING HERE
Cheela Plains is located 170kms southwest of Tom Price Visitor Centre (via Paraburdoo) and 320kms northeast of Exmouth on the Nanutarra-Munjina Road (Hwy 136). The Station Campground is situated 1km off the main highway and is accessible by 2 wheel drive car.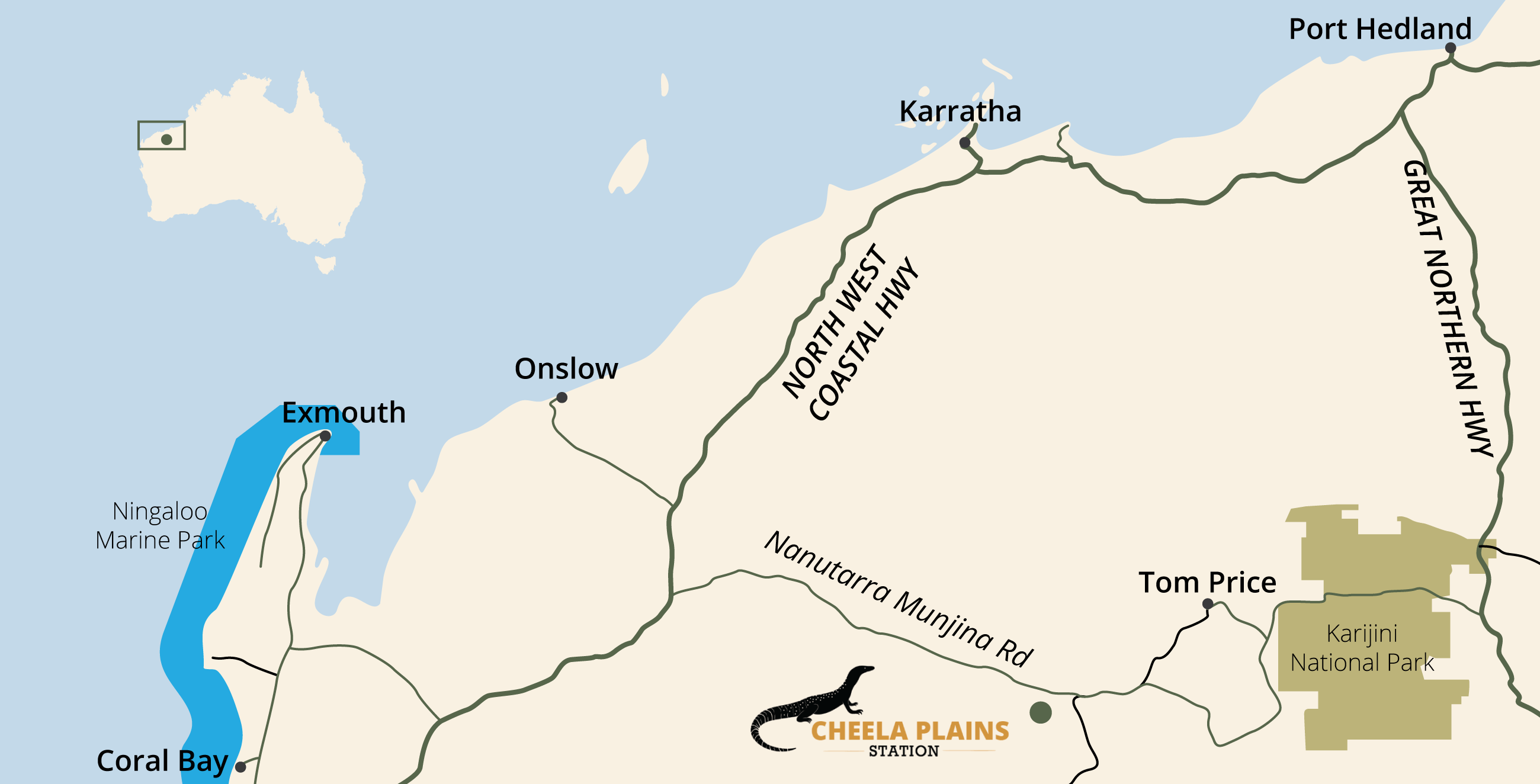 STATION EVENTS
Each year, we are introducing new and exciting events on Cheela.  In 2020, we again hosted our 'Space Safari'  an introduction to astrophotography under the magnificent night sky of the Pilbara. Everything from landscape to deep-sky astrophotography will be covered.   Stay tuned for the announcement of 2021 event dates.
Jane Bache
13. August, 2022.
What a gem 💎 found this place by WOM cut our stay short in Karijini Eco and made a beeline for Cheela Plains we had 2 nights here and just LOVED IT .. staff management are FANTASTIC super friendly lots of fun in for a yarn or two Clean ablutions hot showers best I've had so far Nice green lawn in centre where you can get plenty of shade for powered sites if on unpowered pull up a chair Had carrot cake twice and went for dinner both nights Sunsets and sunrise SPECTACULAR.. Nice walks to do around the station or visit the gorge nearby Thank you for having us ♥️ BEST STATION STAY
Richard Doust
9. August, 2022.
Great stay and food
Anne Grossmith
8. August, 2022.
A good place to break up the drive
razar drones
5. August, 2022.
Amazing spot to visit
Tom Delahunty
28. July, 2022.
Great coffee stop and looks like a terrific place for a station stay. Excellent service also.
Tim Donehue
19. July, 2022.
We were amazed how good the camp grounds were here. Well set up, clean, and very well maintained.
Lina Rossi
17. July, 2022.
Fabulous place to stop n have their iced coffee n carrot cake
Been visiting the Pilbarra and karijini area for 15 years now, and only discovered this lil gem recently! Cheela is a great transit spot on the way to Tom Price/Karijini. It was wa long drive from Exmouth this time, and we needed an overnight stop over to break the journey in two. Cheela is the spot. Facilities were great, as well as the hikes and sunset! Will def be back again!